HISTORIC COMIC BOOK ARTWORK TO BE AUCTIONED IN THE UK
Rare Marvel and DC comic book artwork to go under the hammer in upcoming London auction including a rare Steve Ditko Amazing Spider-man splash page
Collectors can bid on key pieces of original comic art telling the origins of many of today's most popular superheroes alongside props and costumes from film and television productions in which they appeared in Prop Store's Entertainment Memorabilia Live Auction on Thursday 20th September 2018.
Comic art pages are one-of-a-kind hand-drawn pieces used for the production of comic books and are important in establishing the mythos of the superheroes that appear in today's films and television shows.
Prop Store has curated a collection of historic pieces that span across the Marvel and DC universes.
Highlights include a rare 2/3 splash page of Spider-man fighting Doctor Octopus drawn by Spider-man's co-creator, Steve Ditko, who passed away in June. Steve Ditko (artist) and Stan Lee (writer) co-created Spider-man in 1962. Ditko established the look and feel of Peter Parker, Spider-man and the universe of characters for Marvel's most recognizable character. After drawing the seminal first 38 issues of Amazing Spider-man, Ditko left the series, never to return to drawing the character again. This is the most significant piece of Spider-man art by Ditko that has come to market since his passing and is one of the nicest examples of his art that that has come to auction in recent years. It is estimated to sell for £95k-£110k ($125.7k-$145.5k). 
Comic art will appear alongside Superhero props and costumes.  For collectors looking for a Spider-man prop to accompany the Ditko Spider-man page, Prop Store is offering Peter Parker's (Toby Maguire's) original Spider-man costume design from 2002's Spider-man. Alongside Chris Evans' distressed army rescue costume from Captain America: The First Avenger (2011), you will find one of the only a few surviving pages of Captain America artwork from the 1950's.  Next to Hugh Jackman's Wolverine claws from X-Men 2 (2003), you will find the title splash page created when Wolverine's first appearance in The Incredible Hulk #181 was reprinted in the UK in 1976.
Over £3.5 million ($4.6 million) worth of film/television memorabilia, including comic art, will be offered as part of Prop Store's 2018 Entertainment Memorabilia Live Auction.
A preview exhibition featuring over 200 auction lots will take place between 6th – 20th September 2018 at the BFI IMAX in Waterloo, London 
Stephen Lane, Prop Store CEO, commented on the upcoming auction – "We're excited to be able to offer these historic works of comic book artwork alongside props and costumes from the movies and television shows that they inspired. These fantastic lots will be sold together with over 600 props and costumes at Prop Store's Entertainment Memorabilia Live Auction on 20th September at London's BFI IMAX proudly presented by ODEON."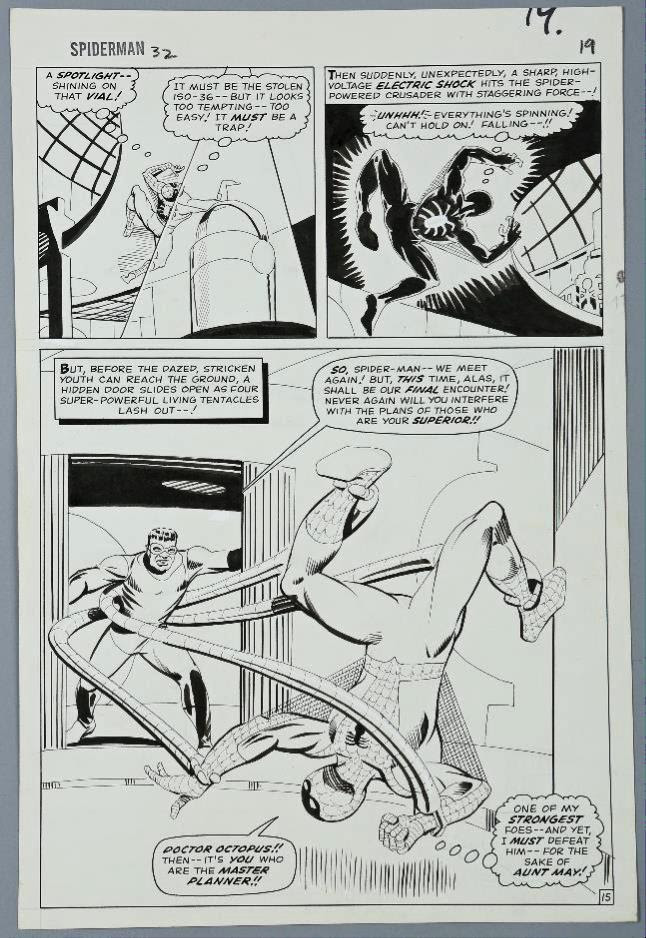 AMAZING SPIDER-MAN #32 PAGE 15 (1966) by Steve Ditko – Early Spider-man 2/3 splash page fighting Doctor Octopus by his original co-creator. Estimate £95k-£110k ($125.7k-$145.5k)
The Prop Store Live Auction will feature comic book art including:
FLASH #129 PAGE 1 TITLE SPLASH (1962) by Carmine Infantino and Joe Giella – 2nd App. Of the Golden Age Flash in the Silver Age along with early appearances of the Silver Age Flash, the Trickster & Captain Cold in one of the first Earth 2 cross-over stories. Estimate £45k-£50k ($59.5k-$66.1k)
BRAVE AND THE BOLD #30 PAGE 12 CHAPTER 3 SPLASH (1960) by Mike Sekowsky and Bernard Sachs – 3rd appearance of the Justice League of America (pre-issue #1) featuring Green Lantern and Aquaman. Estimate £18k-£22k ($23.8k-$29.1k)
JOURNEY INTO MYSTERY #84 PAGE 10 (1962) by Jack Kirby and Dick Ayers – 2nd appearance of Thor & 1st appearance of Jane Foster. Estimate £15k-£20k ($19.8k-$26.5k)
HOUSE OF SECRETS #92 PAGE 6 (1971) by Bernie Wrightson – Origin and 1st appearance of the Swamp Thing. Estimate £9k-£12k ($11.9k-$15.9k)
MEN'S ADVENTURES #27 PAGE 5 (1954) by Mort Lawrence – Rare 1950's page featuring Captain America and Bucky throughout. Estimate £5k-£7k ($6.6k-$9.3k)
MIGHTY WORLD OF MARVEL #199 PAGE 1 TITLE SPLASH (1976) by John Romita Jr. and Duffy Vohland – 1st App. Of Wolverine, from UK Reprint of THE INCREDIBLE HULK #181. Estimate £3,000-£4,500 ($4k-$6k)
FANTASTIC FOUR #286 PAGE 23 (1986) by John Byrne and Terry Austin – Origin of Phoenix re-told by from Uncanny X-Men #100. Estimate £2,200-£3,200 ($2.9k-$4.2k)
SHORTLIST #121 Cover (2010) by John Romita Jr.- The only published cover of Kick-Ass and Hit-Girl by their original co-creator to be offered for sale. Estimate £800-£1200 ($1.1k-$1.6k)
SECRET SERVICE #4 PAGE 18 (2012) by Dave Gibbons – Eggsy dons his Kingsman suit for the first time. Estimate £500-£700 ($661-$926)
The auction will be live-streamed online for fans to track the bidding on auction day. A free preview exhibition will be open to the public in the run up to the auction, opening on Thursday 6th September – Thursday 20th September 2018 at the BFI IMAX and showcasing over 270 lots from the upcoming auction.
Registration is now open at www.propstore.com/liveauction. Online proxy bids can be submitted now.
Auction items will be on display at a free exhibition open to the public at the BFI IMAX, Waterloo, London, England SE1 8XR from 10:00am to 9:30pm, 6th – 20th September 2018. Prop Store's Entertainment Memorabilia Live Auction, in partnership with the BFI IMAX proudly presented by ODEON, will take place at the BFI IMAX Waterloo (1 Charlie Chaplin Walk, London SE1 8XR) on Thursday 20th September from 12:00pm.