A Con of Our Own: ClexaCon makes history with the first-ever entertainment convention for LGBTQ women and allies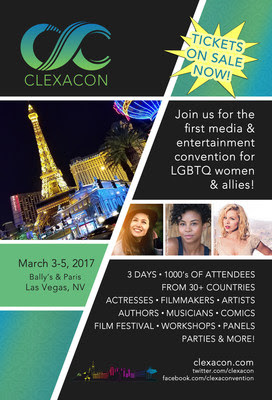 From March 3‒5 at Bally's and Paris in Vegas, panels, workshops, autograph sessions, and film screenings bring together stars, fans, and creators; certain proceeds to Trevor Project
LAS VEGAS, Jan. 12, 2017 /PRNewswire/ — A different kind of fandom deserves a different kind of convention. ClexaCon will unite LGBTQ women to celebrate queer female characters and stories, connecting fans, celebrities, creators, panelists, journalists, and artists at a party so highly anticipated that VIP tickets sold out
in two minutes
. Celebrating representations of LGBTQ women in all genres, the exciting ClexaCon line-up includes
Lost Girl's
Zoie Palmer
(Lauren) and
Rachel Skarsten
(Tamsen);
Wynonna Earp's
Dominique Provost-Chalkley
(Waverly) and
Katherine Barrell
(Nicole);
South of Nowhere's
Gabrielle Christian
(Spencer) and
Mandy Musgrave
(Ashley);
All My Children's
Eden Riegel
(Bianca) and
Elizabeth Hendrickson
(Maggie);
Saving Face's
Lynn Chen
(Vivian) and
Michelle Krusiec
(Wil); from
The L Word
and
Skirtchasers
,
Elizabeth Keener
; from
Fringe
and
Suicide Kale
,
Jasika Nicole
; from
Bomb Girls
 and
Lost Girl
,
Ali Liebert
; and from
Pariah
and
South of Nowhere
,
Aasha Davis
.
ClexaCon is named in honor of Clarke and Lexa ('Clexa') from the CW's The 100. When fan favorite Lexa was killed — the first example of the 'Bury Your Gays' trope that year — members of the queer community responded by raising awareness about the trope, plus $162,550 (as of this writing) for The Trevor Project. ClexaCon is honored to also be donating a portion of its proceeds to this national organization providing crisis intervention and suicide prevention for LGBTQ youth.
Any actor who has played LGBTQ knows that queer female fans are devoted and loyal, and ClexaCon is the first convention catering specifically to them. It is a place where we can interact with the biggest stars, learn from the brightest minds, and party like only we can! Panels, workshops, autograph sessions, and film screenings will not only bring together fans and stars, but content creators such as Emily Andras (Wynonna Earp, Lost Girl); Alice Wu (Saving Face); Shamim Sarif and Hanan Kattan (I Can't Think Straight); Paige Bernhardt and Nancylee Myatt (Nikki & Nora, South of Nowhere); Amanda Bearse (Skirtchasers); Katherine Brooks (Loving Annabelle); Stan Zimmerman (The Golden Girls, Roseanne, Gilmore Girls); and Bridget McManus and Christin Baker (Tellofilms). Panels will include discussions of minority representation in the media, how to write television for women, and how to create a web series. ClexaCon will also present an LGBTQ Film Festival, plus an Artist Alley featuring many LGBTQ artists sharing and selling art, crafts, comics, clothing, and more.
ClexaCon is a celebration of the characters and stories that have provided comfort and support for the queer community, and that have even — figuratively and often literally — saved lives.
Tickets are US $135 for all three days; single-day tickets also available.
ClexaCon: www.clexacon.com
The Trevor Project: http://www.thetrevorproject.org/
'Bury Your Gays' trope:http://tvtropes.org/pmwiki/pmwiki.php/Main/BuryYourGays
https://twitter.com/ClexaCon
www.facebook.com/ClexaConvention
www.instagram.com/clexacon
http://clexacon.tumblr.com